Fundraisers
Our Impact
At Jumbo, we create visually stunning and user-friendly virtual platforms that empower charities and nonprofits to increase donations, wow their donors, and boost their reach beyond their local community.
Last year, our Jumbo for Good clients raised over $5 million in donations through their Jumbo platforms, and this year, we want to raise even more.
That's why we partnered with Fundraise Up to offer an exclusive 30% lower platform fee to ensure that you can host engaging, memorable fundraisers that will blow past your donation goals.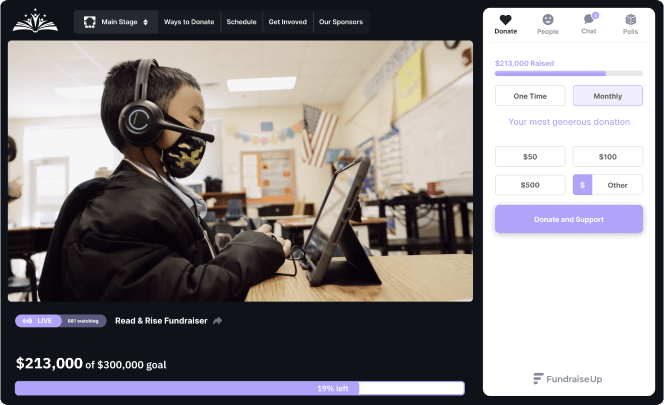 "The Jumbo platform was user friendly and gave us the ability to personalize it for our brand. Jumbo was also helpful in communicating with attendees and making suggestions to help us have a user friendly event."
Sally planned a virtual fundraiser
White-glove service
Jumbo's legendary production team, plus our infinitely-customizable platform, will bring your virtual and hybrid event vision to life stress-free.
Engage your donors
Donations are tracked and celebrated in real-time thanks to our FundraiseUp integration.
Exceed your targets
‍Hybrid events increase donations by up to 67% over solely in person.
Lowest fees
Jumbo + FundraiseUp provide flat 2.75% payment processing fees, the lowest in the industry. We've checked!
Jumbo for Good Grant
What began as an offering for local charities in our home city of Charlotte, NC soon turned into a tool that we felt would be irresponsible not to share with the rest of the country. It turns out our platforms are the perfect balance of easy to use and engaging so that donors immediately see the impact of their gifts and are encouraged to give more. While we make a point to offer our best-in-class technology and service at an affordable price point, we understand that nonprofits don't always have the same access to funds as bigger businesses. The Jumbo for Good grant was created for charities and nonprofits that need a little extra help funding their virtual or hybrid event.
Free demo
Take It From Our Customers
Roof Above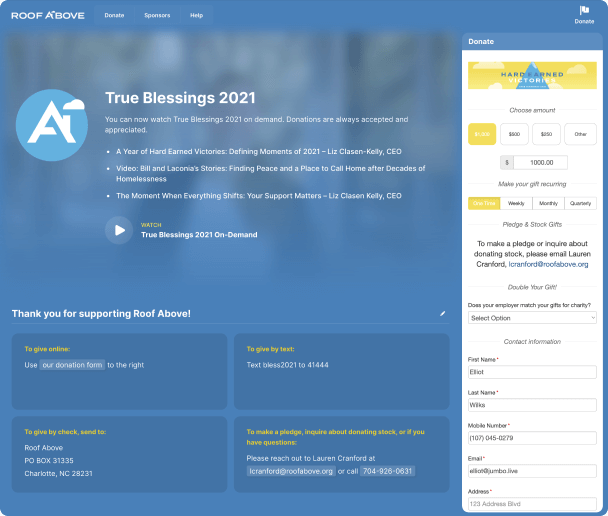 Roof Above believes that every person deserves the safety, stability, and dignity of home. Through an intentionality about getting the right people involved and we move towards effective action. They aim to unite the community to end homelessness, one life at a time.
Augustine Literacy Project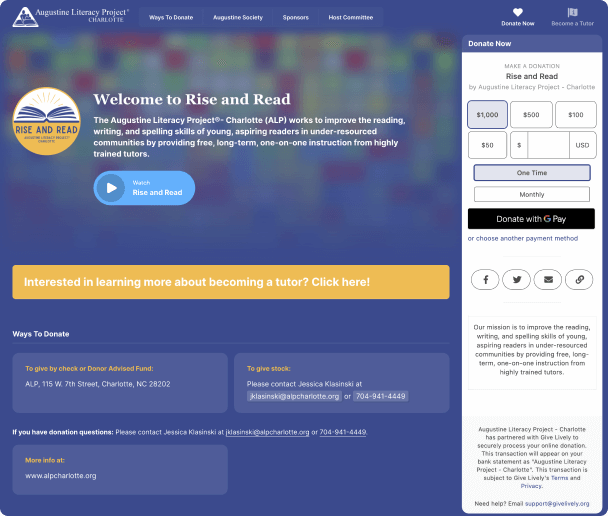 The mission of the Augustine Literacy Project – Charlotte (ALP) is to improve the reading, writing, and spelling skills of young, aspiring readers in under-resourced communities by providing free, long-term, one-on-one instruction from highly trained tutors.
Change the way you fundraise

and join the group that has already boosted their reach, revenue and impact with Jumbo for Good